Landcom has identified one of the easiest ways to improve the sustainability in our communities is to facilitate higher BASIX ratings for new homes. Not only is this a positive outcome for the environment, but it also has the potential to reduce the cost of living through lower power bills.
The Sustainability Pattern Book focuses on dwelling specifications that deliver high impact, with a preference for low maintenance outcomes. The Book provides an easy-to-access analysis of the capital costs, predicted household savings, and emission and water reductions, based on a sliding scale of achievement. The higher the BASIX rating, the greater the long-term financial and environmental gain.
The Book caters for the typical dwelling types that might be expected in a typical community – including detached or semi-detached houses and apartments. Across each of the dwelling types, the key strategies aim to deliver on five outcomes:
Comfortable homes that respond to local climate

'Move-in ready' dwellings with efficient appliances

Solar panels to enable residents to generate their own energy

Electric vehicle (EV) ready homes that enable residents to transition to electric vehicles

Urban greening to create a cooler environment.
Originally developed to support our construction team building homes at Bonnyrigg, Claymore and Airds24, the Book has quickly evolved to inform a new suite of home owner rebates Landcom intend to offer at select projects in FY19. These rebates will be focused on facilitating higher BASIX ratings for residential homes, where Landcom has not retained governance over the design or build.
The Sustainability Pattern Book is supporting Landcom to reduce emissions and unnecessary potable water consumption across our communities. This is in line with our long-term goal to enable carbon neutral and water positive outcomes across our portfolio. In future, we see great opportunity in making the Sustainability Pattern Book an open source tool for all new home builders to utilise.
Figure 8 Indicative strategies to guide the BASIX outcomes in dwellings at Landcom projects.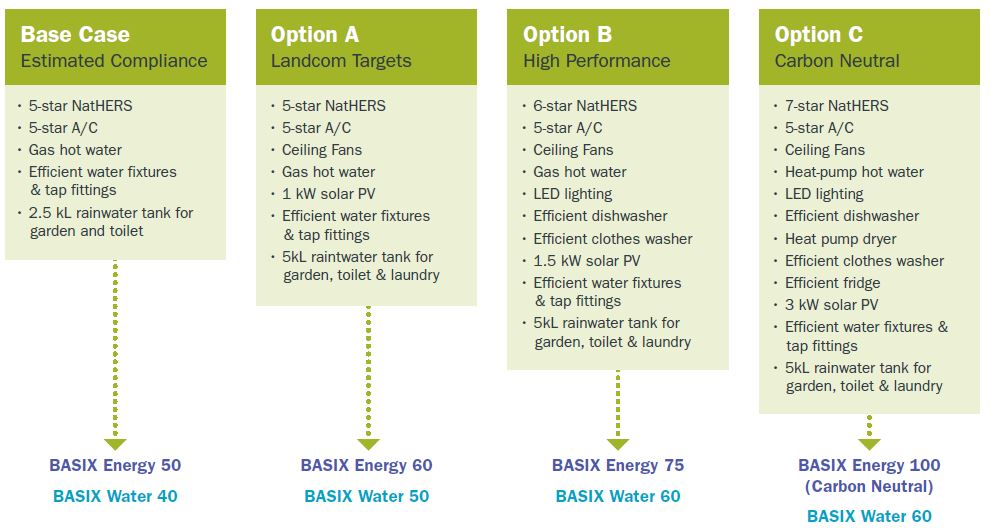 24 On behalf of the land owner, Land and Housing